Bể cá này đã trưng bày đến 120.000 loài sinh vật biển và được cho là bể cá lớn nhất thế giới.

Bể cá Georgia Aquarium ở Atlanta, Mỹ là aquarium lớn nhất TG hiện nay với 8 triệu gallons nước biển, có khả năng chứa 31.000m3 nước mặn và nước ngọt, trưng bày 120.000 sinh vật biển đại diện cho 500 loài.
Bể cá nhằm giúp bảo tồn những sinh vật đang bị đe dọa tuyệt chủng
Với những "thành tích" như trên, bể cá Georgia Aquarium đã được ghi danh vào sách kỷ lục Guinness là bể cá lớn nhất thế giới. Trong bể cá này, đáng chú ý là có bốn cá mập voi, hai cá voi trắng và hai cá đuối họ manta.
Bể cá này là kết quả hợp tác giữa Đại học Kỹ thuật Georgia và Đại học Quốc gia Georgia tại Atlanta để nhằm bảo tồn các loài đang bị đe dọa tuyệt chủng.
Top Ten Aquariums in America

1. Discovery Cove - Part of Seaworld in Orlando
2. Sea World - California , Florida, Texas
3. Georgia Aquarium - Atlanta
4. Living Seas - Epcot, Orlando
5. National Aquarium - Baltimore
6. Monterey Bay Aquarium - California
7. John G Shedd Aquarium - Chicago
8. New England Aquarium - Boston
9. Tennessee Aquarium - Chattanooga
10. Aquarium of the Pacific - Long Beach, CA
10. The Texas State Aquarium - Corpus Christi.
10. Ripley's Aquarium - Myrtle Beach

1. National Aquarium in Baltimore, Maryland
Whale songs, fishy undersea murmurings, and atmospheric music bubble through hidden speakers. The sounds drift through pleasantly dim corridors that build anticipation by hiding what's just around the next curve. Could it be a giant multispecies tank? An intimate look at something surprising? At one of the small exhibits, a volunteer guide admits, "Sometimes you become attached to an animal here, and this is the one I'm attached to." She's referring to a giant Pacific octopus―a spectacularly ugly creature that instantly changes color and skin pattern, deftly unscrews jar lids, uses a piece of plastic pipe as a toy, and likes to be tickled. A human visitor looks the cephalopod in the eye and feels an unexpected tug of kinship; 410/576-3800 or aqua.org.
2. Monterey Bay Aquarium, Monterey, California
Exhibits in this converted cannery concentrate on the cool things found just outside in restless Monterey Bay. Wolf-eels and sardines glide through a three-story kelp forest. Artificial waves crash over a walk-through acrylic tunnel, providing life-giving moisture to the weird creatures that inhabit tide pools. Irresistibly cute sea otters cavort. The million-gallon Outer Bay tank showcases bluefin tuna, hammerhead sharks, and other open-ocean denizens. Nearby, in startling contrast, float ethereally beautiful jellyfish. Outdoor decks offer views of the bay―and, occasionally, passing whales; 831/648-4888 or montereybayaquarium.org.
3. SeaWorld, San Diego, California
Sure, it's a theme park, with a splashy roller coaster and other thrill rides. But it also weaves a strong conservationist message throughout its shows and displays of rays, eels, sharks, penguins, sea otters, dolphins, whales, and other fascinating wildlife. The entertainment educates. After all, Shamu the performing orca and his aquatic buddies have inspired millions of children to learn about ocean inhabitants; 800/257-4268 or seaworld.com.
4. John G. Shedd Aquarium, Chicago, Illinois
One of the oldest aquariums (it opened in 1929, though the fish didn't arrive until the next year), the Shedd thinks big. The Beaux Arts grandeur of the original building hints at the scope of the experiences within. The aquarium re-creates environments from all over the world, including Caribbean and Philippine reefs, Pacific Northwest seas, the Amazon River, Africa, Australia, and the Great Lakes. Immense curved windows in the Oceanarium wing show off sweeping views of Lake Michigan; 312/939-2438 or sheddaquarium.org.
5. Moody Gardens, Galveston, Texas
Frolicking penguins and seals delight all ages. Close-up views of sharks via an underwater tunnel supply more shuddery thrills. As a bonus, the blue-glass pyramid that houses the aquarium stands as part of a diverse entertainment and education complex. Other attractions include the Rainforest Pyramid (tropical plants and birds), the Discovery Pyramid (science exhibits), an IMAX theater, a paddle-wheel excursion boat, and a hotel with a spa; 800/582-4673 or moodygardens.com.
6. Oregon Coast Aquarium, Newport, Oregon
Unlike the world-ranging mega-aquariums, the friendly, medium-size Oregon Coast Aquarium concentrates on (as the name implies) Oregon's coast. Fortunately, lots of compelling things live there, including turtles, sea otters, seals, sea lions, many kinds of birds, and an amazing variety of jellyfish. For an added fee, "Animal Encounters" turns visitors into personal chefs for octopuses, sea otters, sharks, or sea lions. Participants help prepare the food, then meet the "diners"; 541/867-3474 or aquarium.org.
7. South Carolina Aquarium, Charleston, South Carolina
In what seems at first like a design oddity, visitors enter at the back of the building. That brings into view a panoramic vista of the Cooper River and Charleston Harbor, thus turning the surrounding environment into one of the exhibits. The strong sense of place continues inside. Children especially love the realistic, slightly spooky re-creations of such environments as a dim, breezy mountain ravine and a foggy blackwater swamp where the "ground" seems to quake underfoot. A sense of playfulness pervades. For example, the aquarium's designers knew that guests can't resist peeking into small, unlabeled windows and crannies; 800/722-6455 or scaquarium.org.
8. Mystic Aquarium & Institute for Exploration, Mystic, Connecticut
Relatively small but ambitious, Mystic Aquarium ranges over much of the earth, displaying penguins, cownose rays, sea lions, beluga whales, and, from the Amazon rain forest, piranhas. It also rescues whales, dolphins, and other injured marine animals. And it has joined forces (through the Institute for Exploration) with deep-ocean explorer Robert Ballard, famous for discovering the Titanic wreckage. Spin-off effects from those behind-the-scenes activities should help keep the aquarium on the rise; 860/572-5955 or mysticaquarium.org.
9. Vancouver Aquarium Marine Science Centre, Vancouver, British Columbia
Exhibits cover everything from the Amazon rain forest to an Indonesian coral reef to the nearby waters of Pacific Canada. Sharks, sea otters, dolphins, and sea lions all draw crowds. But the Arctic Canada exhibit shows off the true stars: long, lean, ghost-white beluga whales. The belugas perform several shows a day. The extra-cost Beluga Encounter allows guests to participate in feeding and training sessions, and includes one-on-one meetings with the sleek cetaceans; 604/659-3474 or www.vanaqua.org.
10. The Florida Aquarium, Tampa, Florida
The aquarium's arching glass roof has become a focal point for the redevelopment of Tampa's waterfront. The focus on Florida species probably makes it more interesting for out-of-state tourists than locals. Still, the Coral Reef Gallery, with its panoramic windows and walk-through tunnel, packs quite a visual wallop. Children love Explore-A-Shore, a watery playground with animal shows. Extra-cost bonuses allow visitors to swim with fish (including sharks) or take a two-hour boat eco-tour of Tampa Bay; 813/273-4000 or flaquarium.org.
Aquariums in the United States
Aksarben Aquarium and Nature Center
Gulfarium - Fort Walton Beach, FL
Jenkinsons Aquarium
J.L. Scott Aquarium
Key West Aquarium
Kirkham Aquarium
Long Beach Aquarium of the Pacific
Marine Life Aquarium
Marine World Africa USA
Memphis Zoological Garden & Aquarium
NC Aquarium at Pine Knoll Shores
National Aquarium in Baltimore
New England Aquarium
Newport Aquarium - Newport, KY
New York's Aquarium for Wildlife Conservation
Point Defiance Zoo and Aquarium
Scott Aquarium
Shoals Aquarium & Nature Center
St. Lawrence Aquarium & Ecological Center

The 10 Best Zoos for Kids by Child Magazine - Link
1. Lowry Park Zoo
2. San Diego Zoo
3. Oklahoma City Zoological Park and Botanical Garden
4. Brookfield Zoo
5. Phoenix Zoo
6. Cincinnati Zoo &Botanical Garden
7. Bronx Zoo
8. Toledo Zoo
9. Fort Wayne Children's Zoo
10. Columbus Zoo

Top 10 Amusements and More
Amusement Parks - Top 10 USA Amusement Parks
Christmas Lights - Holiday lights and Festivals
Corn Mazes - Fall's Fun Top 10
Indoor Water Parks - Stay Warm in the Winter
Merry-Go-Rounds - Discover these historic carousels
Orlando - Amusement Parks and Attractions
Roller Coasters - USA's Top 12 Coasters
Water Parks - America's Top 10 Water Parks
Aquariums - Top 12 Aquariums in the USA
Zip Lines - Top 10 in the United States
Zoos and Aquariums - Top 10 Zoos and Aquariums

Top Ten Aquariums in the world
1. AquaDom: World's Largest Cylindrical Aquarium

Cylindrical Aquarium, Germany
Cylindrical aquarium is located at Karl-Liebknecht-Strasse 3 together with the Radisson SAS Hotel, D-10 178, Berlin, Germany. The aquarium is designed in a glass elevator in the room shaped like a cylinder, so that it can move up and down. High Cylindrical Aquarium room can reach 25 meters and 11 meters wide.
2. Okinawa Churaumi Aquarium In Japan


The Okinawa Churaumi Aquarium is the world's second largest aquarium and part of the Ocean Expo Park located in Okinawa, Japan. The main tank holds 7,500-cubic meters of water and features the world's largest acrylic glass panel, measuring 8.2 meters by 22.5 meters with a thickness of 60 centimeters. Whale sharks and manta rays are kept amongst many other fish and plant species in the main tank.


The aquarium is currently trying to breed Whale Sharks.
3. Pieter van Suijlekom's Reef Aquarium


Pieter van Suijlekom's Reef Aquarium is a fantastic saltwater tank system with a total volume of 2074 gallons.

4. Fish Highway Aquarium


The Fish Highway is a water-filled overhead tunnel connecting two (or more) aquariums. As long as no air gets in, fish can travel from one tank to another! For a simpler version, you might try the Fish Condo, which is three connected fishbowls.

5. Artistic Aquarium


The aquarium can be work of art, or it can be the medium for art. Takashi Amano introduced Japanese gardening techniques into aquascaping, turning them into displays of natural art.


6. Phone Booth Aquarium-The Telequarium, France


Benoit Deseille and Benedetto Bufalino turned a phone booth into an aquarium as part of Fête des lumieres 2007 (Light Festival) in Lyon, France.


7. Toilet Aquarium


Teach a man to fish, and you have fed him for a lifetime. Put some fish in a man's toilet, and he will never have a boring trip to the pot again. This is the clever thinking behind the Fish 'n Flush.


Fish 'n Flush is a patented, two-piece aquarium toilet tank, designed by AquaOne Technologies, Inc., an innovator of water-management systems. The aquarium has a 2.2-gallon capacity. When you flush, it looks like all the water is draining out of the tank and the fish are going down, but it's an optical illusion: the fish are actually safe in an outer aquarium made of high-polished plastic. What you see draining is the toilet water in a separate tank behind the aquarium.

8. TV Aquarium


Ever wondered what to do with that ancient 26" wooden TV set laying around in yours or your grandparent's garage? Here's a perfect destination for it! Even if you don't have the old TV, it shouldn't be too hard to buy one for almost nothing, and in no time you can have your favorite program broadcasting all day long, with no commercials.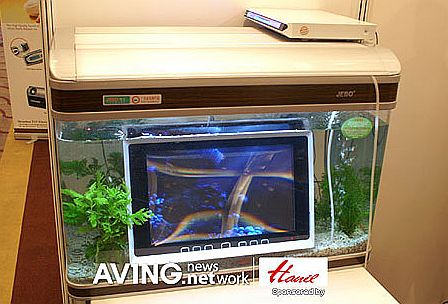 9. Car Aquarium

At the Siam Ocean World in the Siam Paragon shopping center in Bangkok, there is a fabulous car there that cannot be driven. Why? Because it is filled to the top with water!
Dozens of fish call this extremely modified vehicle their home. And just so you know, the doors to this car are welded shut just in case any mischievous person thinks it funny to release that much water and fish onto the mall floor.
10. Sink Aquarium
L'Oceanografic in Valencia, Spain: kiến trúc đẹp nhất TG


Vài aquarium mà tôi đã từng viếng thăm:
Long Beach Aquarium (hay The Aquarium of the Pacific):

đây là auqarium gần nhà tôi nhất và cũng là aquarium mà tôi thích.

Seattle Aquarium

Baltimore,
Maryland Aquarium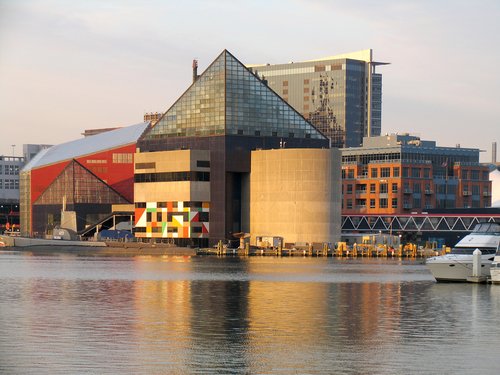 SeaWorld
Orlando,
FL
San Diego,CA