Versaille Versailles, probably the world's most famous garden, was built for Louis XIV and designed by André Le Nôtre.

More Versaille Pictures...
The Garden of Cosmic Speculation Strange landforms abound in Charles Jencks' Garden of Cosmic Speculation.

Boboli Gardens The Bobobli Gardens, behind the Pitti Palace in Florence, Italy were groundbreaking in the early 18th century for their open design.

More Boboli Gardens Pictures...
Rikugien Gardens "Rikugien literally means 'six poems garden' and reproduces in miniature 88 scenes from famous poems."

Claude Monet Gardens in Giverny The pool with nympheas, in Claude Monet's garden at Giverny.

Butchart Gardens, Victoria, B.C. The Butchart Gardens at Todd Inlet, which lie around 14 miles from Victoria B.C., covers more than 55 acres of the 130 acre Butchart Estate.

Kirstenbosch Botanical Gardens Table Mountain looms in the distance of this vista from Kirstenbosch Botanical Gardens in South Africa.

Yu Gardens - Shanghai The 400-year-old Yu Gardens were built in the Ming Dynasty during the reign of Emperor Jia Jin, and restored in the 1960s.

Abraham Lincoln Memorial Gardens Designed by Jens Jensens in the 1930s, the Lincoln Memorial Gardens are planted with native species from the three states Lincoln lived in: Kentucky, Indiana and Illinois.

Holland's Keukenhof Gardens

A showpiece for Holland's unique and beautiful tulips, the manicured landscapes of Keukenhof Gardens abut the rainbow rows of blooming Tulips near Amsterdam.



Mirabell Garden in Salzburg The world-famous Mirabell Gardens were built along a north-south axis and oriented towards the Hohensalzburg Fortress and the Salzburger Dom cathedral.

Ryōan-ji Zen Garden in Kyoto, Japan In Kyoto's Ryōan-ji Zen Garden, the empty space is implicitly structured, and is aligned with the temple's architecture.

Sculpture Garden in China:

The exhibit will be displayed at the Science and Technology Park near the Olympic Village, Beijing, China from July 8th to September 8th 2008 where you can take in the sights free of charge.


Photo BCGI

The distinctive World Botanic Gardens Exhibition for "Homes for plants, Gardens for humans" is the culmination of months of hard work by organizers Chinese Academy of Sciences (CAS) Botanic Gardens Popular Network, Beijing Municipal Science and Technology Committee, and Botanic Gardens Conservation International (BGCI).

More than 40 million plants and flowers of over 500 varieties will also be used to adorn key areas such as the Tiananmen Square, the road towards Capital Airport, the Olympic Central Zone, and other significant areas.

There will be 360,000 square meter athlete apartments in the Olympic garden, an Olympic Forest Park of 867 hectares with 200 hectare dragon-shaped lake area, 50 hectares of the Museum of Chinese Nation, 405 hectares of exhibition center and the Olympic Village.

Around the central area of Olympic Games will be 8 newly-fashioned hotels, 5 luxury hotels, 3 golf courses, 8 shopping plazas, 4 food streets, and 10 major shopping malls.

Professor Zhang Wenjie, of Beijing Jiaotong University, said the cost for removing and treating the household garbage collected from the apartments alone will hit 1.08 billion yuan (about $157.5 billion US).

Zhou Jianping, an official with the Beijing Municipal Bureau of Landscaping and Forestry, said the municipal government would finance the project.

"Passengers will see blocks of green when their planes fly over the airport area." he said at an ongoing training program on roof greening techniques, that has drawn more than 200 landscape workers nationwide.

About 8 million square meters of grayish roofs in the airport area made an ugly first impression on first-time travelers to the Chinese capital, Zhou added.

"Roofs that are highly waterproof and can support at least 330 pounds (150 kilos) per square yard/meter [will be decorated]." he said. Those that failed these standards were to be painted more colorfully.

There are more than 50 Olympic gardens in 43 cities throughout China, including China Sports Olympic Garden, Shanghai Olympic Garden, Beijing Olympic Garden, Guangzhou Olympic Garden, and Tianjin Olympic Garden.

Three gardens, 23 feet (7 meters) lower than the ground surface, have been built under the fencing gym of the 2008 Beijing Olympics in order to save energy without the aid of air conditioners, the Olympic project contractor said.

The gardens, covering an area of 1,300 square yards (1,200 meters), could see the underground temperature lower than a normal room temperature, according to a spokesman of the Beijing Construction Engineering Group (BCEG) that designs the gardens.

"People in the conference center can feel cool without air conditioner even in the heat of summer." said a BCEG engineer.

Experts estimate that about 380,000 kwh of electricity could be saved annually for the center.


Dancing Beijing emblem depicted in a flower garden.


Decorative flower garden in Tiananmen Square depicting various Olympic sports.


Chinese laborer plants flowers at a garden for the Beijing Olympic Games to adorn
Tiananmen Square, June 5, 2008 in Beijing, China. Photo Guang Niu / Getty Images

The Olympic slogan, "One World, One Dream" calls upon the world to unite in the Olympic spirit and build a better future for humanity. It was chosen from over 210,000 entries submitted from around the world.Statistics state that in 2008, more than 200 countries and regions will participate in the Beijing Olympic Games.


A large number of parterres have been erected on both sides of Chang'an Street
to decorate the Chinese capital ahead of the 2008 Olympic Games,
to be held in August. Photo Xinhua


Ornamental parterre in the Xidan commercial area beside Chang'an Street in Beijing
July 10, 2008. Photo Xinhua


Ornamental parterre beside Chang'an Street in Beijing July 10, 2008. Photo Xinhua


Ornamental parterre beside Chang'an Street in Beijing July 10, 2008. Photo Xinhua


Ornamental parterre beside Chang'an Street in Beijing July 10, 2008. Photo Xinhua


Ornamental parterre beside Chang'an Street in Beijing July 10, 2008. Photo Xinhua

A fascinating garden found in Shanghai China with interesting sculptures that includes lion dance, jumping dolphins, abacus, hand with teapot and many others.

Viceroy's Palace Garden, India
Huntington Library Cactus Garden, USA

Golshan Garden, Iran

Het Loo, NetherlandsMount Stewart, Northern IrelandPowis Castle, WalesVillandry, FranceVilla Lante, ItalyCrathes Castle, ScotlandGarden of Cosmic Speculation, ScotlandHidcote, EnglandIsola Bella, ItalyGiardino Giusti, ItalyTsarskoe Selo, RussiaAlhambra, SpainBodnant, WalesCourances, FranceMonteiro, BrazilPeterhof, RussiaRyoanji, JapanSaihoji, JapanShalamar Bagh, KashmirLiu Yuan, ChinaLongHouse Reserve, USAMillennium Park, ChicagoMiller House, USAMissouri Botanical Garden, USAKirstenbosch, South AfricaLa Majorelle, MoroccoLas Pozas, MexicoLes Quatre Vents, Canada Fin Graden, IranDonnell Garden, USADumbarton Oaks, USA

Dr. Sun Yat-Sen Classical Chinese Garden (Vancouver, BC, Canada)


Dr. Sun Yat-Sen Park

Mondo Verde, Gardens
Villa D'Este, Italy

Villa d' Estewas is embellished by one of the most fascinating garden and fountain complexes in the world. It has the Avenue of the Hundred Fountains, where animal heads, lilies, a small boat, basins, and so on all spurt water.

Dumbarton Oaks, Washington, D.C

You might feel as though you've stepped into a Merchant-Ivory set in any of the gardens that make up this estate at the north end of Georgetown, one of Washington's nicest neighborhoods.

Villa Ephrussa de Rothschild, France

It is filled with olive trees and lavender, a lapidary garden, with sculptures too large to be displayed in the villa, and Spanish, Japanese, Florentine, and exotic gardens.

Sourhead Warminister, England

To the English gentry of the 18th century, the more classical something could be the better. Stourhead is a grand example of genteel fascination with the past.

The Master of Nets Garden, China

The residential garden in southeast China, call Wangshiyuan in Chinese, was designed during the Song dynasty. The arrangement of pavilions, halls, music rooms, won some bamboo grooves, and waterside perches is an exercise in natural harmony.

Sans Souci Potsdam, Germany

Frederick the Great of Prussia built this splendid rococo palace as his summer place, where he could live without a care, sans souci. Busts of Roman emperors, decorative statues, and a Chinese tea house dot the lavish grounds.
Singapore Botanic Garden
Considered one of the world's prettiest botanical gardens, the Singapore Botanic Garden was established in 1859. It is on 128 acres. The National Orchid Garden is in center section, atop the park's highest point, where more than 60,000 colorful orchids bloom.
Descanso Gardens California

A mere 20 minute drive outside of Los Angeles you'll find a bucolic paradise with more than 100,000 plants and one of the world's largest collections of camellias. The gardens and woods of Descanso unfold over 65 hectares of the San Rafael Hills
Japanese Garden, Huntington Library, San Marino, CA - USA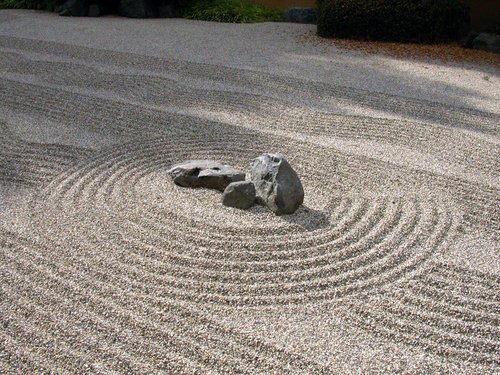 Zen garden at the Huntington Library, San Marino
Huntington Library, San Marino, CA - USA
Huntington Library, San Marino, CA - USA
The Floral Clock Garden is a unique garden that will certainly catch your attention. It is part of the Queen Victoria Gardens in Melbourne, Australia. It's a part of Melbourne's memorial to Queen Victoria. It is situated on 4.8 hectares or 12 acres opposite the Victorian Arts Center and National Gallery of Victoria.
Bonsai plants are truly amazing and this beautiful and peculiar garden called Bonsai Forest is located in Penjing Gardens of Pagoda Yunyan Ta or Cloud Rock Pagoda in Suzhou, China. This type of garden is known as Chinese (Scholar's) Garden, a place for solitary or social contemplation of nature.
This stunningly beautiful and lovely garden of tulips of different colors is perhaps the most attractive and most beautiful garden in the world. This Spring Garden
is located in Keukenhof, the Netherlands.
Pyramids are not just tombs for pharaohs they can also be used in gardens. The unique Pyramid Glasshouse is part of the Royal Botanic Gardens of Sydney in Australia. It is one of the largest of three major botanical gardens open to the public in Sydney and is free to access and open every day of the year.
These thousands of bright and pretty flowers aren't painting or plastic flowers either. These are real tulip flowers located at the Garden of the Provinces and Territories in Canada.
This type of garden is called Formal Garden and is located at the Abbaye de Valloires, Picardy and laid out by Gilles Clement in 1987.
The picture above is another example of Formal Garden. It's the Sissinghurst Castle Garden in England.
This Cacti House is located in Botanical Garden in Berlin, Germany. This botanical garden is considered one of the most important gardens in the world, with area of 43 hectares and around 22,000 different plant species.
This lovely and intricate design of a garden is called Renaissance Garden. This particular example of Renaissance Garden is located in Pieskowa Skała or Pieskowa Rock, Poland.
This elegant garden with lovely ornamental plants is located at the Missouri Botanical Garden, a botanical garden located in St. Louis, Missouri. The spiraling design of plants around the statue makes the garden unique.
Rose is perhaps the most popular flower in the world. This Rose Garden
is located in Roseraie du Val-de-Marne, a garden devoted to roses which was established in 1899. It is regarded as the first ever garden dedicated exclusively to roses. Roseraie du Val-de-Marne has a total of 13,100 rose bushes featuring 3200 species and varieties.
Another beautiful type of garden is Back Garden. A house, a building or a palace is beautiful if it has a Front
Garden and more beautiful if it has a Back Garden too. This example of Back Garden is in Umaid Bhawan Palace located at Jodhpur in Rajasthan, India. This palace is one of the world's largest private residences.
These beautiful garden
, or should I say - farm, of tulips of assorted colors is located in Oregon, USA. These lovely and colorful flowers were used in Tulip Festival in Woodburn, Oregon in 2007.
Checkered Garden is a peculiar type of garden I would like to try because it simply looks elegant and challenging too. The attractive picture of Checkered Garden shown above is in Tours, France
This lovely garden is located in Waddesdon Manor in England. This unique design of a garden is called Parterre, a formal garden construction on a level surface consisting of planting beds, edged in stone or tightly clipped hedging and gravel paths arranged to form a pleasing, usually symmetrical pattern.
The Kitchen Garden is not a garden located in a kitchen. It is a space separated from the rest of the residential garden - the ornamental plants and lawn areas. Vegetable Gardens
may be a little humble vegetable plot. It is a source of herbs, vegetables, fruits, and flowers, but it is often also a structured garden space with a design based on repetitive geometric patterns.
One of the most challenging types of garden is the Japanese Rock Gardens. These are a living work of art in which the plants and trees are ever changing with the seasons. As they grow and mature, they are constantly sculpted to maintain and enhance the overall experience; hence, a Japanese Garden is never the same and never really finished. It is also known as Dry Landscape Gardens and often called "Zen Gardens" because they were influenced mainly by Zen Buddhism and can be found at Zen temples of meditation.
Tropical Gardens are no longer exclusive to tropical areas. They can also be found now in places with colder climates. Tropical gardens in colder climates are made possible by carefully choosing plants and flowers. The picture of tropical garden above is located on the Portuguese island of Madeira.