Nam Phi: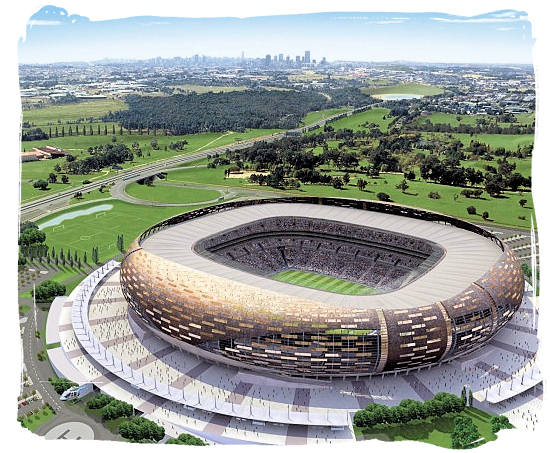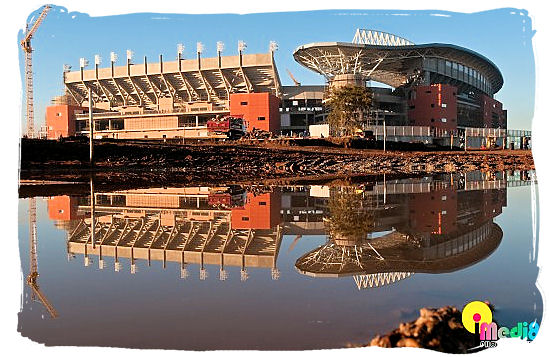 Green Point Stadium
Moses Mabhida Stadium – Durban

Named after a hero of the working class, Stadium located in the Kings Park Sporting Precinct.
This stadium has a 70 000 capacity.
Soccer City – Soweto

This Stadium was Built in 1987, it is located just between Soweto and Joburg CBD Soccer City has capacity of 94 700 seaters.
Ellis Park Stadium – J'oburg

This stadium is located in the heart of Johannesburg, it has a capacity of 70 000 seaters.
Royal Bafokeng – Rustenburg

Located in Rustenburg was opened in 1999 and completely funded by the Royal Bafokeng community. (An administrative entity presiding over the world's richest platinum mines). The capacity of the Royal Bafokeng is 42 000 .
Free State Stadium – Bloemfontein

This stadium is located in the heart of Bloemfontein with seating capacity to 48 000
Loftus Versfeld Stadium – Pretoria

Loftus Versfeld is situated few kilometers from the city of Tshwane (Pretoria), it was named after Mr Robert Owen Loftus Versfeld, the founder of organised sports in Pretoria.
The Stadium has a capacity of over 50 000.
Peter Mokaba Stadium – Polokwane
The Peter Mokaba Stadium is situated in Polokwane the capital of Limpopo Province. The Stadium is the first world class football venue in the soccer mad province of Limpopo. It has a seating capacity of 46 000. it was named after the late Peter Mokaba, a controversial anti-apartheid activist who was born in Polokwane.
Mbombela Stadium – Nelspruit

The Mbombela Stadium located just outside of Nelspruit in Mpumalanga, it has a capacity of just over 40 000.
Nelson Mandela Bay Stadium – Port Elizabeth
Soccer City – Soweto
Durban
Port Elizabeth
TQ ngày nay:

Nam Kinh

.
This is in the Northeast.
Is this Central Park, New York? No. It is China.
In cities, subway sometimes runs above ground.
This city is in Helongjiang Province.
Bar Street on the Majiagou River
This is one the bridges crossing the Yangzi River.